In San Diego's South Bay since 1984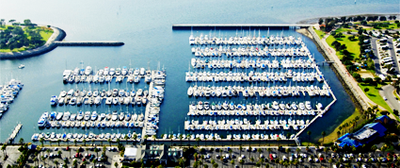 Chula Vista Marina in San Diego pioneered the South Bay by being the first marina to be built at the South end of the Bay. We opened in 1984, and since that opening have made a name for ourselves by maintaining a 5-Star Rating for maintenance and cleanliness. Many of our boaters have remarked "wow, you could eat off the floor of the restrooms, they are so clean."
Everything is done in-house from maintenance, housekeeping, security, landscaping, and office functions. We are proud that most of our staff have been employed at the marina for 10+ years. That means that you will always be on a first-named basis with everyone. The unique global position of Chula Vista Harbor gives us the most spectacular sunsets in San Diego. No airport noise or dirt, quiet, peaceful setting, and top quality facilities and amenities, make Chula Vista Marina the #1 marina in Southern California to moor your boat.