Events
Marina Classes for September
Marina Classes are free to CVM tenants and members of CG Auxiliary and US Power Squadron. For all others there is a $10 fee.
For more information call the Marina Office at 619-691-1860.
FRIDAY MORNING CLASSES ONGOING
8:30-11:00 am
PhotoShop
Bring your own laptop. Instructor: Don Johnson
SATURDAY MORNING CLASSES
9:30-11:00 am
Marina Room
Sat , September 2
No class for Labor Day Weekend

Sat, September 9
Suddenly in Command
Misfortunes occur in seconds, and you have the rest of your life to be grateful that you knew what to do because you were prepared. Don't miss this session - this is for crew, and all second and third mates. Here's your chance to learn what to do when accidents and misfortunes do happen. Presented by Fortilla 114. Instructor Bill Anderson.
Sat, September 16
Raw Water Pump Rebuilds
Learn how to re-assemble and replace impellers, as well as the Jabsco Raw Water Pump found on many marine V-8 engines. The Rawwater Pump circulates seawater through a heat exchanger that provides cooling to the engine. Come and learn at this hands-on demostration with Don Johnson.
Sat, September 23
About Boating Safety
This beginner boating class provides the knowledge needed to obtain a California Boaters Card. This is a terific class for new boat owners. Topics include type of boats, trailering, navigation, boat handling and more. Course Cost $35 - Instructor Bill Anderson, U.S. Coast Guard Auxillary. Course approved for California Boater Card. Call 619-922-0231.
Sat, September 30
Seabreeze Book & Charts with Captain Ann Kinner
Until a year ago, southbound cruisers had to make do with charts that were outdated at best, and inaccurate for many places. Seabreeze can now provide charts for Mexico from the Mexican Navy! Accurate for use with GPS and generally up to date for major harbors, the Mexican charts are a significant improvement over what formerly was provided by the US government, many of which have actually now been cancelled and withdrawn from the market. Come and find out what your charting options are for wherever you plan to cruise.
---
Social Events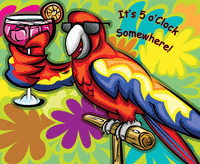 BOATERS 6th ANNUAL 5 O'CLOCK SOMEWHERE PARTY
Saturday, August 5 | 5-8 pm
Our Annual Boaters "It's 5 O'Clock Somewhere" Party was a big hit!
It went off in grand fashion, and good fun was had by all. Great food, great entertainment, provided by Mark Woods and the Parrot Head Band who never sounded so good and had most everybody dancing, nice summer air, and the full moon was icing on the cake.
Check out these fabulous pics from the party on Instagram here:
https://www.instagram.com/chulavistarvresort/
---
LABOR DAY WEEKEND - Sept 1st - 4th
If you missed the last two Holiday weekends, you won't want to miss our Summer Finale!
The holiday weekend will stay with you through the entire winter. All our activities for the weekend will be trumped by none other than our last Saturday 5 pm evening summer concert featuring "Calico Ridge aka Alias" - back by popular demand. They promise to give us a concert that will rock the house! So bring your chair and enjoy some great music.
Then Sunday, our final summer event will be our second FOAM PARTY, which was such a hit we just had to do it again. Parents you will want pictures and video of this event, absolutely the best time ever! Parental supervision is required.
---
OCTOBER SNEAK PREVIEW
MARINE GEAR SWAP MEET
Saturday, October 7 | 7 am - 1 pm - (Save the date)
One man's Trash is another man's Treasure! Plenty of spaces to sell - Marina tenants can get one space for free, and non-tenants are welcome and can sell used items for $15 and new items for $30. Great bargains always show up and great deals can be had.
Bring your fire extinguisher for re-filling by So-Cal State Fire Protection, The Sunbrella Man, The Rope Man and The Hat Man will all be here. Mexican Street Tacos will be available, plus live entertainment provided by S cott Wentworth's and Joe Hurtado's Rubber Band . So lighten your boat, clean out your dock box and garage, and bring it all down and try your skills of negotiating at the Marine Gear Swap Meet - always a good time!